Hospitals and Large Medical Centres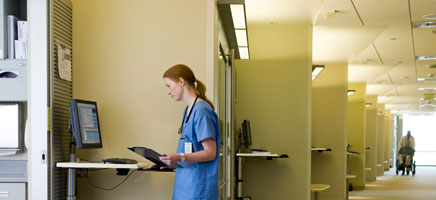 Providing quality patient care is your number one priority. But this requires coordination among many different departments and staff, from nurses and pharmacists to clinical support staff and physicians. How do you make sure everyone has the information they need, when they need it?

Innovative technologies are creating a new reality in institutional healthcare, one that's improving efficiencies and streamlining patient care, while at the same time ensuring that medical information stays secure and compliance regulations are met.

HP has a long history in developing high-tech innovations for the healthcare industry that facilitate efficient and cost-effective operations. Read on to find out how HP technology can help you provide exceptional care, both today and in the future.
Find out how other hospitals and medical clinics are using HP technology

Toronto East General Hospital:

Children's Hospital of Eastern Ontario:

Technology tips and industry news

Mobile Solutions: Accessing information where and when you need it

Having immediate access to information at the point-of-care – wherever and whenever it's needed – is on the technology wish lists of many clinicians. But new innovations have made it easier than ever before for mobility to become reality.

With the help of electronic medical record software, mobile technologies like notebooks and tablet PCs are providing clinicians with the freedom to treat patients at the bedside, in addition to updating lab results, writing prescriptions, ordering tests and even viewing medical records on-the-go. This means that less time spent at a desk and more time face-to-face with patients providing care. It also has the potential to change the way clinicians interact with patients by providing a way to visually share test results, information about a condition or details about an upcoming procedure.

Mobile technologies are also helping to streamline workflows. Without a computer at the patient's bedside, information must be recorded manually on paper and transferred into an electronic system at a PC station or from the clinician's office later on. With mobile solutions, information can be entered immediately – meaning there's no delay in updating the patient's file, and information is instantly available to other clinicians within the network who may be contributing to a patient's care.

Here's a look at some mobile technologies from HP that can help clinicians at your healthcare institution stay connected, create new efficiencies and ultimately improve patient care:

HP Slate PC: The HP Slate PC provides wireless computing in a form factor that's small enough to fit into a lab coat pocket. Staff can look up information to manage patient loads on-the-go, and access precise, rich images for engaging and informative one-on-one consults with their patients – without paper.
HP Chart Carts: Also known as a 'Workstation on Wheels,' HP Chart Carts make mobile point-of-care easier by putting an HP All-in-One PC on to a portable cart. With this solution, the technology can move with staff as they see patients, update health records and review charts. The HP Chart Cart has a small footprint and is powered by an on-board battery so it can truly go where you need it most.
HP Notebook PCs: HP Notebook PCs can be easily added to a cart or other mobile workstation for performance that travels with caregivers to the patient bedside or anywhere else in the hospital or clinic. From the lab to the hallway to the patient room, an HP Notebook PC makes sharing vital patient information fast, efficient and secure to increase performance, lower costs and provide patients with the best care possible.
HP ProtectTools: Don't forget about securing patient information, particularly when you're dealing with mobile solutions. HP ProtectTools provide a comprehensive set of features to secure your system against a wide variety of security threats. The tool helps to prevent data from being copied from your hard drive. In addition, it can encrypt data so it's unreadable, and also provides a spot to manage passwords and logons. The HP ProtectTools suite is a standard feature on HP commercial-grade notebook and desktop PCs. Security can also be controlled on your mobile systems by implementing HP authentication protocols, including advanced biometric security systems like a fingerprint reader.

Learn about HP products and solutions for hospitals and medical clinics

This section provides an opportunity to highlight specific HP products and solutions for Enterprise Healthcare customers, such as: