Jump to content

HP.ca home
HP Canada is one of Canada's Greenest Employers!
Content starts here
Once again, HP Canada is proud to share our recently announced recognition as one of Canada's Greenest Employers for 2012! This award recognizes organizations that have taken the lead in creating a culture of environmental awareness and embedding sustainability in the workplace.
"Corporate Social responsibility is key to our business success – we have a long history of doing well by doing good. There are many ways in which this is critical to our continued success. We are thrilled with this recognition of the many actions we take to lead in this area."
-Lloyd Bryant VP & General Manager IPG & Environmental Programs HP Canada
We were named one of Canada's Greenest Employers 2012 for many reasons, including the following:
Our Eco Advocate Program educates HP employees, contingents and partners about the many benefits of practicing sustainability in the workplace.
We have recycled millions of pounds of used computer equipment and ink cartridges since 1987 through our Planet Partners take-back program
We engage employees by organizing various environmental events throughout the year – including Earth Week, the WWF CN Tower Climb and Waste Reduction Week
Our collaboration with WWF has contributed to the creation of the Living Planet @ Work Program Championed by HP. This program provides free tools and resources to help businesses to reduce costs while improving their environmental performance
Our "HP Eco Highlights" label provides a simple and easy-to-read description that helps customers understand the environmental attributes of its products
We have free address work environments (also known as hotelling or shared workspaces) – which reduces employee commuting environmental costs and HP's office footprint
We are committed to reducing the environmental impact associated with our vehicle travel by providing various footprint reduction tools such as web rooms, teleconferencing and telepresence opportunities
We provide preferential underground parking for employees who cycle to work
We have senior executive commitment from Lloyd Bryant, who regularly speaks at conferences about HP's leadership in sustainability and who chairs the board of directors for the EPSC and the EPRA
Our Smart Commute Program incentivizes employees to carpool to the office by providing them with reserved parking spots near the building and regular contests with exciting prizes for carpoolers.
Related HP links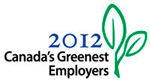 © 2013 Hewlett-Packard Development Company, L.P.